My Best Friends
Now I would like to introduce you to my best friends...
Andy and I have been blessed with some truly wonderful pets, I grew up surrounded by dogs but when Andy and I got our first home we were adopted by Merton and so started my love affair with our feline friends - those and my other great passion - Horses.
Below are all the wonderful animals I have had the pleasure of having in my life: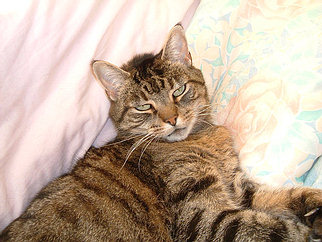 This is Merton. He is about 18 years young now, my husband and I took him in as a stray when we bought our first home together.
At first he was very wary - especially of men and strangers but gradually he learnt that we meant him no harm and only wished to give him a safe and happy life.
Merton has recently decided to revert back to having kitten tendencies and likes nothing better than to wake us up at 5 o'clock in the morning with a game of football!
Sadly we lost our lovely old man in October 2007. After a few years suffering from thyroid and kidney problems Merton was taken to Rainbow Bridge to be with all the other much loved and missed pets. RIP little man - love you loads. X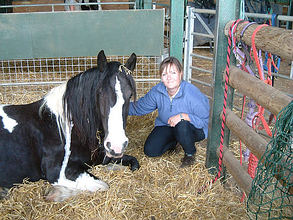 This is me and Katie.
She is a piebald cob and she has now been taking over my life for about 14 years, she is approximately 20 years young now.
Katie can be a bit of a handful at times but I wouldn't swap her for the world (well maybe occasionally!). We like to compete in local level shows and dressage and love nothing more than an early morning ride in the summer months - we tend to hibernate in the winter!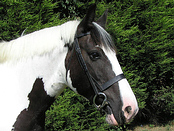 Meet Pepsi.
We have had Pepsi for about 11 years - she is also 20 years young and definitely the matriarch of her small herd. She was bought predominantly for my husband, Andy, so that we could enjoy horse owner-ship together.
She is an absolute star, looking after Andy every step of the way - and doesn't even bat an eyelid when Katie decides she'd like to have a little bit more 'fun'.
The high light of every year is definitely our holiday to the New Forest when we take Katie and Pepsi along for a well deserved break.
We lost our gorgeous Pepsi in February 2022. She was in her late 20's and had had the most wonderful life. She has left a huge Pepsi shaped hole in our family and we miss her so very much. Run free gorgeous girl xx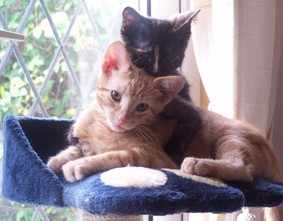 Meet Sparkle and Arnie. After losing Merton, Andy and I were lost without our feline friend so along came 'The Terrors'. They are now 9 years old and you certainly wouldn't catch them snuggled up like this nowadays - they have a more 'teenage brother and sister' relationship.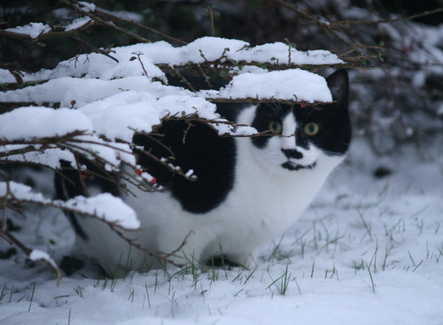 This is Dora. What can I say? she is certainly a character, growls at the other two if they even dare to try and enter our bedroom where she keeps guard all night outside the door. She was a rescue cat from the RAIN rescue centre,we got her at 6 months old and she is now 5 - she came via one of my lovely customers who fosters for RAIN and didnt want Dora to go to anyone other than me.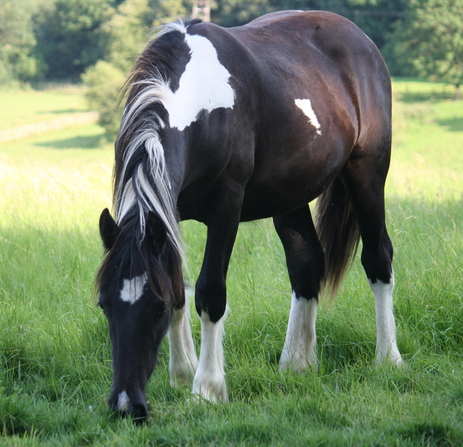 Meet Poppy, show name 'Remember Me' - Oh my god!!! I love this little filly so much. Owning a youngster has been one of the best experiences I've ever had. Poppy has even won her first red rosettes in some local level in-hand shows. Only low key but I have a feeling i've got a little superstar on my hands here.
2016 update, Poppy is now a rising 4 year old and has recently been backed. We are starting off everything nice and slowly and she is proving to be everything I hoped she would be. I am hoping to start doing some un-affilliated intro dressage with Poppy this summer.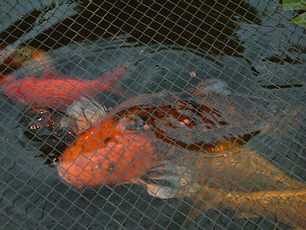 And last but not least, my husband, Andy's, pride and joy - his Koi Fish.
Thanks for taking the time to look.
Leigh